August 19 2012
1
19
/

08
/

August
/

2012
17:02
I was on the hunt for kitchen equipment that is useful and would not clog up the kitchen and reasonably priced. Like every person who cook, you can always find gadgets - food proecessors, blenders, bread makers, steamers etc. I have a small kitchen and I imagine most people like to maximise existing work space in their kitchen.
Even when I cook with my PA and she clears up as I go along we quickly run out of work space. Today I asked her to help me make soup. Soup is one thing that I cant manage because of the hot liquid. There is a pot you can buy with a wire basket to help you drain vegetables without carrying the hot saucepan. However it is really not a good idea to boil vegetables, and you can use a slotted spoon for the same function. There is equipment to help you grip,grate and different types of knives.
It would be useful to ask about aids for visually impaired chefs and what they use to help them propare food. My favourite kitchen gadget is a thin flexible chopping board that I can carry without problem to the pot/stove.
I had this discussion with my PA about what we could have in the kitchen to help with independent living and we looked up on the catalogue - the trouble with all these gadgets is whether they would be used even if we had them. But my concession is using very light Chinese lacquer bowls to have my soup from. And the bowl is not at all hot to touch.
We then made soup. She cut up the marrow, tomatoes, ginger.
Minced Pork, Tofu, tomatoes and marrow soup
500 gm minced pork (substitute beef or beefballs if wished)
1 small marrow cut up
2 tomatoes
Fried tofu
soya sauce to taste
Bring water to boil in saucepan, add minced pork/beef. Add the vegetables and then the tofu. bring back to boil. Put some soya sauce in a dipping dish and ladle into bowl.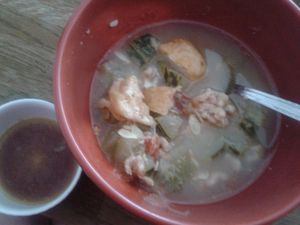 This is very easy to the stomach and you can add rice or have it with bread or noodles.