December 2 2011
6
02
/

12
/

December
/

2011
01:16
Some days just get tangled up without warning and today was one of those days where deliveries went awry and products needed to be sent back and a bank appoinment got cancelled...
It did not help that I was barely awake having been sleeping badly for the past two nights. But by midday the day got better. Frieda even got some Christmas decorations up - more bling bling - I kept my inclinations under restraint and decided that we just want to highlight that independent living products make great Christmas presents. A lady came to order a grabber for her mother in law and another came to check up the leopard print crutch, she says she will be nice to her husband so that he will get it for her for christmas!

Something else arrived for us to test which we thought would make a good Christmas present is the Buckingham Easy Grab.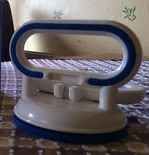 It is light and portable which makes it perfect for popping in a bag and taking it with you for that weekend away or a stay with relatives and friends.

The Easygrab will provide you with a "steadying hand" in the bath and shower room where additional hand support is required. Of course - it can also be used in a multitude of other settings and environments.
It is not meant to hold your whole weight but for that "steady hand" for people who might just need that bit of support.
Something which I had to take with a steep learnng curve is locating suppliers. I met a local Mobility aids supplier and we had a good chat. And he was offering collaboration and we were doing well until he spoilt it at the end - in a bit where he probably thought he could relax - he asked me "what is your problem?"
That did it for me - until that point, we were talking as equal entrepreneurs but just because of my impairment he felt he could ask me that. I responded by saying 'money problems but everybody has those' or something like that. But I was fuming. How could somebody who made his living from selling to disabled people not have any sense of disability equality?